Ship into the future of computing.
Key Features:
Linux Desktop software Pre-installed
Virtualization Capabilities
Built with the latest Intel® Technology
Lighting fast storage with mSATA solid drive
Thousands of apps to choose from Ubuntu Software Center
Quality hardware with Open Source software integrated

Portable
Fits into the palm of your hand. No need to say more.
Energy Efficient
Don't waste unnecessary power. Save Smart.
Powerful
No need to worry when performance is a must. Intel® latest i3 Third Generation will do it for you.
Silently
Not accompanied by any sound when running.
Multipurpose
Desktop, Workstation, Mini Servers
Open
Optimized and carefully tested Linux based Operating System pre-Installed.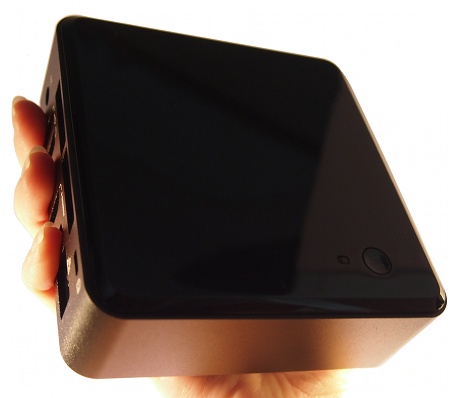 Details
- Intel® NUC Kit DC3217IYE
- 3rd Generation Intel® Core™ i3 3217U 1.8GHz
- Up to 16GB of Memory RAM
- Solid High Speed Hard Drive
- Intel® HD Graphics 4000
- Intel® Wireless N Adapter (Optional)
- Gigabit LAN connection
Next Unit of Computing (NUC). With a visibly smart Intel® Core i3 processor in a highly customizable package, the NUC is a breakthrough in compact but impactful computing.
Drive two digital displays at once with dual HDMI.
Get reliable connectivity through Gigabit LAN.
Effortlessly move between applications with smart multitasking delivered by Intel® Hyper-Threading Technology.
Intel® High Definition Audio (Intel® HD Audio) via two HDMI 1.4a outputs supporting 8 channel (7.1) digital audio.
Supports Intel® 64 architecture